Victims' Rights Advocacy for Human Trafficking Survivors - a Tool for Anti-Racism in the Criminal Legal System
| | | |
| --- | --- | --- |
| $45.00 | 1.25 Access to Justice | Cross-Disciplinary Partnerships & Collaboration, General Practice, Immigration, Victim Rights |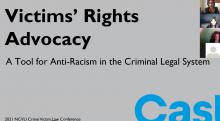 Presented By :
Erika Gonzalez & Nagwa Ibrahim
Date:
12 Nov 2021
Victims' Rights Advocacy for Human Trafficking Survivors - a Tool for Anti-Racism in the Criminal Legal System
Presented By: Erika Gonzalez & Nagwa Ibrahim
Date:         Friday, November 12, 2021
Time:        10:15 a.m. - 11:30 a.m., Pacific (1:15 p.m. - 2:30 p.m., Eastern)
Duration:   75 minutes (1.25 Access to Justices Credits)
Cost:         $45 ($30.15 for Enhanced NAVRA Members)
Presenters
Erika Gonzalez, Training and Technical Assistance Senior Attorney and Program Coordinator, Coalition to Abolish Slavery & Trafficking
Erika Gonzalez is a Training and Technical Assistance Senior Attorney and Program Coordinator at the Coalition to Abolish Slavery & Trafficking (CAST), in Los Angeles CA. Erika is a national expert in legal remedies access for survivors of all forms of human trafficking. Erika is proud to be the daughter of Mexican and Salvadoran immigrants whose work focuses on approaching the legal representation of trafficking survivors from a trauma-informed, victim-centered, and race equity lens. She co-founded and continues to lead the Office for Victims of Crime's first training and technical assistance program dedicated to legal remedies for trafficking survivors at CAST. Through this program, she trains attorneys and social service providers across the U.S. on issues of immigration, victims' rights, criminal record relief and ethical considerations. Erika has devoted her career to working with survivors of human trafficking, sexual assault, and domestic violence. At Opening Doors, Inc. in Sacramento, CA, Erika assumed the low-bono immigration program focused on assisting victims of crime with immigration relief. As a staff attorney at CAST and Opening Doors, she represented crime victims in immigration, criminal victims' rights, and criminal record relief matters. She is the co-author of several advisories on T visas and other forms of relief. Erika is a member of the Freedom Network, a network of over 60 individual and member agencies representing trafficking survivors and is an active participant of their Steering and Racial Equity Committees. She graduated from the University of Pacific, McGeorge School of Law and the University of California, Berkeley. Erika is currently a fellow for the New Leaders Council, Class of 2021.
Nagwa Ibrahim is the Legal Director, Coalition to Abolish Slavery & Trafficking
Nagwa Ibrahim is the Legal Director at CAST where she leads a team of 9 attorneys providing direct legal services to the largest number of survivors of human trafficking in the United States as well as training and technical assistance on human trafficking cases nationwide. Prior to joining Cast, Nagwa ran her own law practice for 9 years with a focus on immigration law and criminal defense. Additionally, she has worked as a civil and human rights attorney, where she handled Guantanamo cases and other prisoner rights cases. Nagwa graduated from University of California Los Angeles, School of Law with a specialization in Critical Race Studies.
Description
The human trafficking field has not been immune from the impact of systemic racism despite efforts to protect victims, especially in the criminal legal system. BIPOC survivors of human trafficking continue to be victimized by the criminal legal system in criminal defense, victims' rights advocacy, and criminal record relief. This session will focus on how B IPOC survivors continue to be victimized by the criminal system whether through being disproportionately arrested, charged and/or convicted for crimes they were forced to commit by the traffickers, pressured to serve as a victimwitness under threats of criminalization, or the use of diversion courts to coerce survivors into engaging in services. Additionally, presenters will use the framework of Victims' Rights Advocacy to provide useful practices for examining and confronting racism in the criminal legal system in the fight against human trafficking. Panelists will highlight through a Critical Race Theory (CRT) lens, the importance of Victims' Rights attorneys in addressing racism within the criminal legal system, ways to assert victims' rights and practical tools for engaging the criminal legal system from a CRT perspective.
CLE Accreditation
This CLE is a recorded session from the 2021 Crime Victim Law Conference.
The Oregon State Bar MCLE Department approved the 2021 Crime Victim Law Conference for a total of 23.75 CLE Credits (14.25 Access to Justice, 1.25 Ethics, and 8.25 General Credit Hours - ID 84518).  On demand sessions viewed are valid for credit. 
This session is eligible for 1.25 Access to Justice credits. This program is approved for 1.25 credits with the State Bar of California; NCVLI is an approved CA multiple activity provider. The training may be eligible for CLE credit in other states. For a certificate of attendance following viewing, please email navra@lclark.edu with your name and the 3 attendance codes from the video.
The handout for this training will be available for download in a button below the video.
Join Now!