Procedural Justice: Leveling the Playing Field for Victims of Crime
| | | |
| --- | --- | --- |
| $45.00 | 1.25 Access to Justice | General Practice, Victim Rights |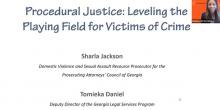 Presented By :
Sharla Jackson & Tomieka Daniel
Date:
12 Nov 2021
Procedural Justice: Leveling the Playing Field for Victims of Crime
Presented By: Sharla Jackson & Tomieka Daniel
Date:         Friday, November 12, 2021
Time:        8:30 a.m. - 9:45 p.m., Pacific (11:30 p.m. - 12:45 p.m., Eastern)
Duration:   75 minutes (1.25 Access to Justice Credits)
Cost:         $45 ($30.15 for Enhanced NAVRA Members)
Presenters
Sharla Jackson, Domestic Violence Resource Prosecutor, Prosecuting Attorneys' Council of Georgia
Sharla Jackson After graduating cum laude from Spelman College with a Bachelor of Arts degree in Spanish, Sharla Jackson graduated from the University of Miami School of Law with her Juris Doctorate. Ms. Jackson currently serves as the Domestic Violence and Sexual Assault Resource Prosecutor for the Prosecuting Attorneys' Council of Georgia where she oversees domestic violence and sexual assault training for prosecutors, law enforcement officers and victim advocates throughout the state of Georgia, Basic Mandate Training for the Georgia State Patrol, and all prosecution-delivered training funded under the Violence Against Women's Act. She also supervises Georgia's statewide Prosecution Team on the Sexual Assault Kit Initiative Task Force. Ms. Jackson is an expert trainer in trial advocacy, law enforcement response. She is also an expert on crime victims' rights. She has increased training opportunities for underserved and rural areas of Georgia and was recently recognized with the "Shining Light Award" given by the Partnership Against Domestic Violence for her innovative program, Court School for Victims Advocates. Ms. Jackson has drafted legislation on the issues of Elder Abuse, Domestic Violence, Animal Abuse and Organized Retail Crime. The City of Atlanta designated June 24, 2010, "Sharla Jackson Day" in recognition of her service.
Tomieka R. Daniel, Esq. is the Deputy Director of the Georgia Legal Services Program
She previously served as the Managing Attorney for the Macon Regional Office of Georgia Legal Services Program.  Mrs. Daniel is a 1997 Honor Graduate from Clark Atlanta University. She is a 2002 Graduate from Mercer Law School. Mrs. Daniel has been practicing law with Georgia Legal Services since 2002 and she primarily handles family law, housing, elder law and family violence cases for low-income Georgians.  Mrs. Daniel has conducted numerous trainings on Domestic Violence issues throughout the state, training legal advocates, attorneys, law enforcement officials and judges on the issues of domestic violence. In 2010, she developed the Teen Dating Violence Prevention Project, which is designed to educate middle, high school and college students, as well as parents and educators on the problems of Teen Dating Violence, as well as offer them legal solutions to those problems. To date, Mrs. Daniel has presented her project to over 15,000 students, parents and educators. She founded the Secrets & Stilettos Domestic Violence Awareness Program in 2012, which to date has provided prevention information regarding domestic violence, human sex trafficking, and dating violence to over 1,000 men, women and children in the central Georgia area. She is passionate about educating youth on this subject because her hope is that if she can reach the student before she gets in a dangerous relationship, she will not have to represent that same youth in obtaining legal assistance against an abusive partner. Mrs. Daniel is a sought-after presenter in the areas of domestic violence, teen dating violence and elder abuse. In 2008, Mrs. Daniel was recognized as the first recipient of the Law and Public Service Program Award for Outstanding Public Service by a Recent Graduate.  The award recognizes recent Mercer graduates whose professional contributions reflect an ethic of public service. In 2009, Mrs. Daniel received the Justice Robert Benham Award for Community Service, presented by the State Bar of Georgia. In 2012, Mrs. Daniel received the National Medallion award from the Boys & Girls Clubs of America. In 2013, Mrs. Daniel received 2nd place for the Ella Springs Jones Member of the Region Award for Alpha Kappa Alpha Sorority, Inc., South Atlantic Region. In 2014, she received the Domestic Violence Task Force Member of the Year Award from the Georgia Commission on Family Violence. In 2015, she received the Woman of Achievement Award from the National Federation of Business and Professional Women's Clubs, Inc. of Georgia. Also, in 2015, she received the Bensonetta Tipton Lane Award for Commitment to the Family from the Georgia Association of Black Women Attorneys. In 2017 she received the Chain of Service Award for National Trends and Services from the Macon Chapter of The Links, Incorporated. In 2019, the State Bar of Georgia's Access to Justice Committee awarded Mrs. Daniel the Dan Bradley Award. In 2020, the Daily Report named her as one of the Best Mentors. Also, in 2020, Mrs. Daniel was appointed to serve on the Georgia Commission on Family Violence. Additionally, she serves on the Georgia State Bar Disciplinary Board the Access to Justice Committee for the State Bar of Georgia. In addition to her legal work, Mrs. Daniel is a member of the Sigma Epsilon Omega Chapter of Alpha Kappa Alpha Sorority, Inc. and is a Past Chief Volunteer Officer of the Boys and Girls Clubs of Central Georgia. She is a member of the Macon Bar Association, Past President for the Houston County Bar Association, a member of the Georgia Association for Black Women Attorneys, the Bootle Inn of Court and the Georgia Association for Women Attorneys. She is a member of the Macon Chapter of The Links, Incorporated. She is also a former member of the Alumni Board of Directors for Mercer University School of Law. She serves as a board member for the Middle Georgia Access to Justice program. Additionally, she serves on numerous Domestic Violence Task Force groups throughout the state of Georgia. She is an active member of Fellowship Bible Baptist Church. Mrs. Daniel is married to Willie L. Daniel, Jr. and they have a 12-year old daughter named Carrington.
Description
The court system contains challenges that victims of domestic violence, sexual assault, elder or child abuse experience when navigating the court process. Due process requires that those coming before the court system have notice and an opportunity to be heard. However, certain victims may experience barriers to accessing justice. Challenges such as disabilities, language, age, income, geography, or even the implicit bias of court professionals can make justice inaccessible and undermine the integrity of our court system. How do victims' advocates and other justice professionals safeguard our highest value of justice for all? What kind of collaborations are most effective in ensuring due process for victims? Ensuring that court professionals meet victims' procedural needs procedurally, requires a collaborative, multifaceted approach that includes civil and criminal procedures, knowledge of the court system, accommodations that can overcome physical, cultural, emotional and other barriers and holistic services which meet a victim's needs as the court process concludes. This workshop will provide strategies that will enable "Multidisciplinary Collaboration Teams," which include civil, criminal justice professionals, court, and community-based advocates to make justice accessible for all victims. The presentation will enable attendees to 1) gain an understanding the requirements of due process; 2) be able to identify the elements of procedural due process; 3) be able to recognize factors inherent in the court system that impede access to justice, and 4) understand strategies for effective collaboration among "Multidisciplinary Collaboration Teams" to improve access to justice.
CLE Accreditation
This CLE is a recorded session from the 2021 Crime Victim Law Conference.
The Oregon State Bar MCLE Department approved the 2021 Crime Victim Law Conference for a total of 23.75 CLE Credits (14.25 Access to Justice, 1.25 Ethics, and 8.25 General Credit Hours - ID 84518).  On demand sessions viewed are valid for credit. 
This session is eligible for 1.25 Access to Justice credits. This program is approved for 1.25 credits with the State Bar of California; NCVLI is an approved CA multiple activity provider. The training may be eligible for CLE credit in other states. For a certificate of attendance following viewing, please email navra@lclark.edu with your name and the 3 attendance codes from the video.
The powerpoint for this training will be available for download in a button below the video.
Join Now!