Crime Victims' Rights in the ER: Building Crime Victims' Rights Access Through Medical Legal Partnerships
| | | |
| --- | --- | --- |
| $60.00 | 1.5 | Cross-Disciplinary Partnerships & Collaboration, General Practice, Victim Rights |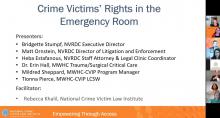 Presented By :
Bridgette Stumpf & Matt Ornstein
Date:
22 Oct 2021
Crime Victims' Rights in the ER: Building Crime Victims' Rights Access Through Medical Legal Partnerships
Presented By: Bridgette Stumpf & Matt Ornstein
Date:         Friday, October 22, 2021
Time:        12:00 p.m. - 1:30 p.m., Pacific (3:00 p.m. - 4:30 p.m., Eastern)
Duration:   90 minutes (1.5 Access to Justice Credits)
Cost:         $60 ($40.20 for Enhanced NAVRA Members)
Presenters
Bridgette Stumpf, Esq., Executive Director, Network for Victim Recovery of DC
Bridgette Stumpf, Esq. is the Executive Director of Network for Victim Recovery of DC (NVRDC), a position she has held since co-founding the organization in May 2012. As part of this role, Bridgette developed the Legal Services and Pro Bono Programs at NVRDC, which offer assistance to victims of all crime types in asserting their rights throughout the criminal justice process, civil legal assistance to survivors of sexual assault, intimate partner violence, and stalking in DC Superior Court, and representation to college campus survivors through administrative judicial hearings, appeals, and formal complaints to the Department of Education's Office for Civil Rights for Title IX violations. For over a decade, Bridgette has spent her legal career advocating to ensure those impacted by crime are afforded meaningful rights and access to supportive services to mitigate the negative effects of trauma post-victimization. During her time at NVRDC, Bridgette has led local and national policy efforts to advance the rights of survivors—providing expertise to members of the U.S. Congress to increase the transparency of sexual assault prosecutions and enhance the rights of crime victims and offering legal testimony and analysis to the DC Council on multiple pieces of legislation impacting the rights of survivors locally. As one of the few victims' rights experts in the country, Bridgette is frequently called to participate in local and national policy conversations around victims' issues. In 2014, Bridgette served on the Department of Education's Negotiated Rule-making Committee to address Clery Act amendments under Campus SaVE through the Violence Against Women Act (VAWA). In 2013, she served on an advisory panel hosted by the Financial Crimes Resource Center to create "Assisting Victims of Financial Crimes," a manual for victim service providers. She pushed for the passage of ground-breaking legislation for survivors of sexual assault in DC under the Sexual Assault Victims Rights Amendment Act of 2014. In 2015, Bridgette provided consultation to the Office of the Federal Ombudsman for Victims of Crime for the Department of Justice Canada. In 2010, she served as a panelist at the National Day of Remembrance for Homicide Victims Forum. Additionally, Bridgette has served as a national expert in crime victims' issues at conferences including those hosted by the National Center for Victims of Crime (NCVC), the National Crime Victims' Law Institute's (NCVLI), the American Society on Aging (ASA), National Organization for Victim Assistance (NOVA), End Violence Against Women International (EVAWI), and other leading victims' rights and services organizations..
Matt Ornstein, Director of Litigation and Enforcement, NVRDC
Matthew Ornstein is the Director of Litigation and Enforcement at NVRDC. As Director, Matt oversees the day-to-day operations, cases, and legal matters undertaken by NVRDC's legal staff and directs the overall litigation strategy of NVRDC's enforcement efforts. Matt has worked as a crime victims' rights attorney since 2010 and has represented survivors in both trial and appellate matters on a variety of issues affecting crime victims' rights. Matt has served as appointed counsel to minor-survivors of crime as well as represented adults under the Crime Victims' Rights Act, state-constitutional and statutory laws, and has directly assisted survivors of crime in reporting to police and prosecutors. Through NVRDC, Matt has provided local CLE and pro bono training to attorneys interested in crime victims' rights and has presented at national conferences such as the National Crime Victims' Law Institute's annual Crime Victim Law Conference and the international summit provided by the Institute on Violence, Abuse, and Trauma. Before coming to NVRDC, Matt was a staff attorney at the Maryland Crime Victims Resource Center where he represented crime victims in Federal and Maryland-state criminal proceedings and appellate matters. Matt graduated from the University of Baltimore School of Law in 2008 and afterwards served as law clerk to the Honorable Paul Hackner and the Honorable Nancy Davis-Loomis in Anne Arundel County, Maryland. Matt is licensed to practice in the District of Columbia (active) and in Maryland (active).
 
Description
This session will discuss strategies for collaboration of victim rights providers with medical providers to create new, non-traditional entry-points for crime victims' rights access. Participants will learn about how the Network for Victim Recovery of DC, with support from NCVLI, and in partnership with MedStar Washington Hospital Center's Community Violence Intervention Program (MWHC-CVIP) built a medical-legal partnership (MLP) centered around crime victims' rights access and underserved
populations. This session will cover challenges, lessons learned, and research findings that offer attendees concrete action plans for building MLPs within their communities.
CLE Accreditation
This CLE is a recorded session from the 2021 Crime Victim Law Conference.
The Oregon State Bar MCLE Department approved the 2021 Crime Victim Law Conference for a total of 23.75 CLE Credits (14.25 Access to Justice, 1.25 Ethics, and 8.25 General Credit Hours - ID 84518).  On demand sessions viewed are valid for credit. 
This session is eligible for 1.5 Access to Justice credits. This program is approved for 1.5 credits with the State Bar of California; NCVLI is an approved CA multiple activity provider. The training may be eligible for CLE credit in other states. For a certificate of attendance following viewing, please email navra@lclark.edu with your name and the 3 attendance codes from the video.
The powerpoint for this training will be available for download in a button below the video.
Join Now!