Addressing Unique Issues Confronting Older Victims During COVID and Beyond
| | | |
| --- | --- | --- |
| $45.00 | 1.25 Access to Justice | General Practice, Victim Rights |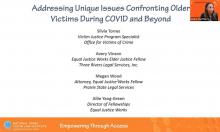 Presented By :
Avery Vinson, Silvia Torres, Allie Yang-Green, and Megan Wood
Date:
12 Nov 2021
Addressing Unique Issues Confronting Older Victims During COVID and Beyond
Presented By: Avery Vinson, Silvia Torres, Allie Yang-Green, and Megan Wood
Date:         Friday, November 12, 2021
Time:        1:30 p.m. - 2:45 p.m., Pacific (4:30 p.m. - 5:45 p.m., Eastern)
Duration:   75 minutes (1.25 credits)
Cost:         $45 ($30.15 for Enhanced NAVRA Members)
Presenters
Avery Vinson, Equal Justice Works Fellow, Three Rivers Legal Services
Avery provides direct civil legal services for older victims of crime in North Central Florida. Additionally, she provides training and outreach on elder abuse and exploitation to the local legal and advocate community. Avery's project provides holistic civil legal services to stop abuse and ameliorate the effects of abuse and exploitation, including securing injunctions and discharging debt incurred due to exploitation. The project also obtains, preserves, and increases public benefits that allow elderly victims of crime to obtain or maintain community-based care.
Silvia Torres, Victim Justice Program Specialist, Office for Victims of Crime (OVC), U.S. Department of Justice 
Silvia Torres is a Victim Justice Program Specialist with the Office for Victims of Crime (OVC) within the U.S. Department of Justice. Supporting the Discretionary Division, Ms. Torres manages a diverse grant portfolio including human trafficking, victim assistance and legal grants and programs. Ms. Torres is an alternate Contracting Officer Representative overseeing the Human Trafficking Capacity Building Center. Before joining OVC, Ms. Torres worked for the National Institutes of Health (NIH) as a Grants Management Specialist for over five years. Ms. Torres also served as a Senior Grants Manager at the University of Miami School of Medicine and as Project Director at Miami Dade College. She served as the Principal Investigator on a domestic violence prevention award from the Centers for Disease Control and Prevention. She also worked at the Health Council of South Florida in various capacities, including Project Manager and Senior Health Planner. She has contributed to several professional publications in the health care field and has experience translating publications. Ms. Torres holds a Master's Degree from the Graduate Center of the City University of New York in Translation with a concentration in International Relations and a Bachelor's degree in Political Science and Communications from Queens College in New York.
Allie Yang-Green, Director of Fellowships,Equal Justice Works
Allie Yang-Green is Director of Fellowships at Equal Justice Works, where she leads the Design-Your-Own Fellowship team and federally funded cohort Fellowship programs, including the Elder Justice Program. In that role, she works with funders, legal services organizations, and attorney Fellows to develop public interest legal Fellowship programs and support networks of Fellows to address pressing legal issues affecting low-income and underserved communities. Ms. Yang-Green joined Equal Justice Works from the U.S. Department of Justice, the Office for Access to Justice, where she coordinated the activities of the Legal Aid Interagency Roundtable and worked on various policy initiatives to improve access to legal assistance in both the civil and criminal justice systems. Prior to that, she has litigated civil cases in federal court as a U.S. Department of Justice trial attorney and worked as a civil legal aid attorney at the Legal Services of Northern Virginia. She holds a B.A. from Yale University and a J.D. from the University of Virginia.
Megan Wood, Equal Justice Works Fellow, Prairie State Legal Services
As an Equal Justice Works Fellow in the Elder Justice Program, Megan Wood provides holistic, client-centered legal services to victims of elder abuse, and works to strengthen and improve the network of existing services to prevent abuse and serve victims in Illinois. Megan has worked for Prairie State Legal Services since 2011 working on a variety of civil legal issues, including protective orders, evictions, and public benefits cases. Her experience with the legal issues that impact poor and marginalized people in her community will serve her well in focusing specifically on the issue of elder abuse.
Description
What are the unique considerations and challenges in providing legal services to older adults to protect their rights against scams and frauds as well as sexual assaults and domestic violence? How do we empower older adults through access to information and services, and build community responses to address elder abuse in rural areas? In addition to these key questions, the presenters will discuss the impact of the COVID-19 pandemic in the service providers' ability to reach older adults and innovative practices developed to overcome those challenges. The presenters will share practice pointers and relevant data and share resources to support elder abuse legal practice.
CLE Accreditation
This CLE is a recorded session from the 2021 Crime Victim Law Conference.
The Oregon State Bar MCLE Department approved the 2021 Crime Victim Law Conference for a total of 23.75 CLE Credits (14.25 Access to Justice, 1.25 Ethics, and 8.25 General Credit Hours - ID 84518).  On demand sessions viewed are valid for credit. 
This session is eligible for 1.25 Access to Justice credits. This program is approved for 1.25 credits with the State Bar of California; NCVLI is an approved CA multiple activity provider. The training may be eligible for CLE credit in other states. For a certificate of attendance following viewing, please email navra@lclark.edu with your name and the 3 attendance codes from the video.
The powerpoint for this training will be available for download in a button below the video.
Join Now!