Reaching Rural - Rural Site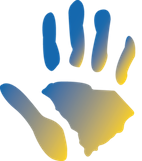 In 2017, the South Carolina Victim Assistance Network (SCVAN) became one of three recipients of a subgrant from NCVLI's Increasing Rural Access through Technology Project (Rural Project) Grant No. 2017-VF-GX-K130, funded by the U.S. Department of Justice, Office for Victims of Crime.  SCVAN provides direct legal services to South Carolina crime victims in criminal and civil courts. SCVAN also provides training and technical assistance to service providers, law enforcement, and legal professionals. In thinking about the state's underserved rural areas that face a lack of attorneys and resources, SCVAN designed its Reaching Rural project. Reaching Rural uses technology through a multi-tiered approach to connect rural victims and service providers to legal assistance, education, information, and referrals.
Reaching Rural provides remote legal assistance through its Victims Rights Centers (VRCs), private offices within community partner spaces where victims feel safe and comfortable to videoconference with SCVAN attorneys. If a victim is unable to travel to a VRC, they can videoconference through their Smartphone or personal device. Gruveo technology is encrypted and browser-based. An app download is not required for a victim. The project also delivers support through its new legal website that provides a comprehensive database of local, statewide and national resources, information on crime victims' rights for victims and providers, and a secure portal where attorneys have access to legal templates, trainings, and guides. By supporting victims and the communities that serve them, Reaching Rural infuses much-needed direct assistance and expands the pipeline of crime victim support to rural communities.
This project is supported in part by Grants No. 2017-VF-GX-K130 and 2018-V3-GX-K018, awarded by the Office for Victims of Crime, Office of Justice Programs, U.S. Department of Justice. The opinions, findings, conclusions or recommendations expressed in this Project are those of the author(s) and do not necessarily represent the official position or policies of the U.S. Department of Justice.
PO Box 212863
Columbia, SC 29221
Areas Served:
Areas Served
South Carolina
Tel:
803-750-1200 Ext. *1312
email:
Join Now!